Microsoft shows mixed reality for the real world
Microsoft shows mixed reality for the real world
Mixed reality is moving quickly from science fiction to science fact.
The technology got a boost this week from Microsoft. The company introduced the HoloLens 2, an update on its mixed-reality headset that it calls the "ultimate intelligent edge device."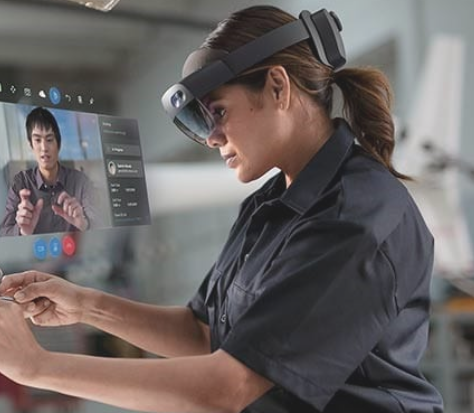 Microsoft's HoloLens 2: mixed reality for the intelligent edge
Microsoft also introduced a mixed-reality app, Dynamics 365 Guides, that helps workers learn by doing with step-by-step instructions. The app works with the new HoloLens 2 headset and also augmented-reality-compatible smartphones and tablets.
The new HoloLens 2 won't come cheap. When the headset ships later this year in the U.S. and 9 other countries, its retail price will start at $3,500. That's slightly more than the original HoloLens, introduced by Microsoft in 2016, which retailed for about $3K.
But for that money, Microsoft has enhanced the HoloLens 2 in three areas it says customers have requested:
> More immersive: The field of view has been more than doubled, thanks to a new display system. Also, holograms can be directly manipulated, including with movements of the eye.
> More comfortable: The headset's balance has been improved, in part thanks to the use of a light carbon-fiber material. There's also a new device for putting on the device without needing a readjustment.
The headset also stays cooler and more comfortable, thanks to the addition of vapor channel tech. And the visor flips up and down, so the user can toggle between mixed reality and the real-world without having to remove the entire headset.
> Faster time-to-value: Microsoft and its partners are offering new software to make the headset more useful. That includes Dynamics 365 Remote Assist and Layout, two mixed-reality apps the company introduced last year. New this week is a third app, Dynamics 365 Guides. It's a mixed-reality app that helps users learn new skills with step-by-step instructions.
Microsoft Dynamics 365 Guides: learn by doing in mixed reality
To help with the financing, Microsoft is also offering a bundle that combines the new HoloLens 2 headset with Dynamics 365 Remote Assist. It will be available starting at $125 a month.
If you or your customers are eager to buy and try, the HoloLens 2 can be pre-ordered from Microsoft now.
Microsoft, with its new HoloLens 2 and associated apps, is helping make mixed reality a valuable tool for the real world.
And that's not fiction, that's a fact.