SMBs need — and want — your help: new survey
SMBs need — and want — your help: new survey
In a world where small and midsized business customers can buy tech directly from vendor sites, Amazon and the local Best Buy, it's nice to know they still need your help.
A new survey finds that many SMBs buy technology from resellers, consultants and tech providers, use a managed services provider, work with a reseller or consultant on a regular basis, and outsource many of their key IT tasks.
The survey was conducted by IT trade association CompTIA. Fielded in November, the survey received responses from 650 U.S. SMB managers on both the IT and business side.
CompTIA released the full survey report, "Tech Buying Trends Among SMBs," today. The group says the report's margin of error is plus or minus 3.8%, so keep that in mind when you see results that are close.
SMBs still like you
Here are some of the key findings of the SMB survey:
> Where they buy: More than half (58%) of SMBs buy tech directly from a vendor or manufacturer; half (51%) buy from online retailers including Amazon; half (50%) buy from local tech retailers including Best Buy; and more than a quarter (28%) buy from resellers, consultants, tech providers and others. (Multiple replies were permitted.)
> MSPs in the house: Just over half (53%) the SMBs use a managed IT-services provider. A third (34%) don't use an MSP, but say it's something they've considered.
> Channel time: Half the SMBs say they've worked with a reseller or solution provider either frequently or regularly in the past year. Nearly a third (31%) said they do, too, but only occasionally.
> Outsourcing tasks: The tech services most commonly outsourced by SMBs are: hardware repairs/troubleshooting (36%), general consulting (33%), web design/ecommerce (31%), cybersecurity (29%), and deployment/installation/integration (28%).
Strictly business
SMBs don't go in for technology for technology's sake. Nearly two-thirds (64%) of SMBs say technology is a primary factor in pursuing their business objectives, the CompTIA survey finds. Among just mid-sized companies, it's closer to three-quarters (73%). Even among small companies — those with fewer than 20 employees — more than half (56%) say tech is important to the business.
However, SMBs worry that they lack the skills. As the chart below (courtesy of CompTIA) shows, only 18% say they excel at tech vision and strategy, only 22% think they excel at execution and implementation, and only 29% think they excel at ongoing operations: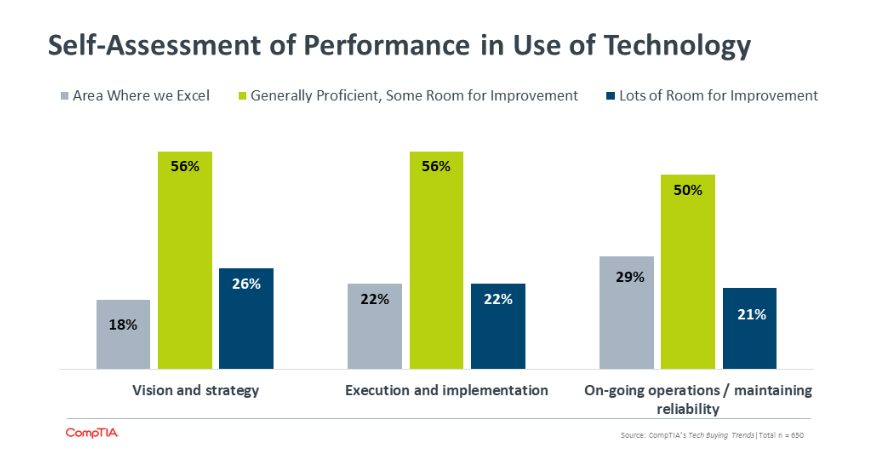 On the question of technology budgets, SMBs are divided, CompTIA finds. More than a third (39%) say their annual IT spend is too low. Nearly half (44%) think it's about right. And the remainder (17%) think their IT spend is too high.
Looking ahead, one in three (35%) SMBs say they plan to spend more on IT this year than last. Nearly half (45%) say IT spending will be about the same. And one in five (20%) say their tech spending this year will be lower.
That leaves plenty of SMBs planning to spend more on tech, work with tech providers, and use IT to reach their business goals.
Leaving you with plenty of prospects to pursue.