Who are your customers?
The answer used to be simple: the IT group. Or, in a very small business, whoever was in charge of the computers.
Now it's a lot more complicated. As IT becomes more tightly aligned with the business, IT also gets planned and bought by the business. Today your customers might also include managers in marketing, finance, HR and logistics.
There's also "shadow IT." Thanks to public cloud services, non-IT staff can easily buy apps, storage and who knows what else — all without IT's permission or even knowledge.
Survey Time
To get a handle on this massive change, trade association CompTIA conducted an online survey earlier this year. Responses came in from 675 U.S. businesses. And today CompTIA published the findings in a report entitled Considering the New IT Buyer.
Here's some of what the CompTIA survey uncovered:
> Nearly half (49%) of respondents said the prime objective for IT use is now more business-focused than it was in the past.
> 45 percent also said that ideas about IT come from different areas of their organization, not just the IT department.
> Over a third (36%) said that more business executives are involved in the IT decision-making process than in the past.
> 40 percent of line-of-business (LoB) managers said they work jointly with IT to determine which hardware, software, services and other tech solutions they will deploy. Only 19% said IT handles all such decisions alone, and only 14% said the business unit handles all such decisions alone.
> Primary decision-makers for the ultimate IT purchase vary widely, as this chart, courtesy of CompTIA, illustrates: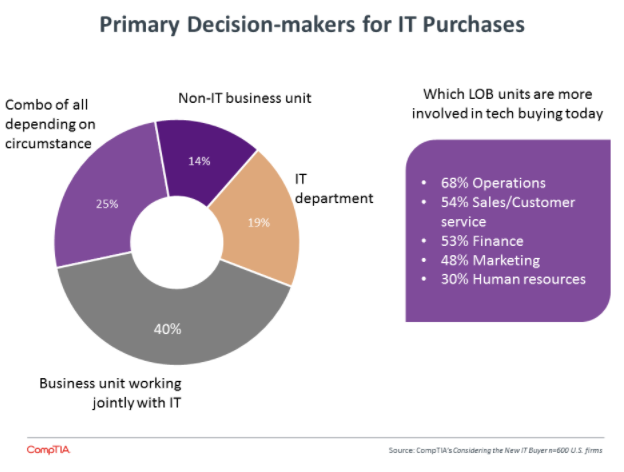 > Who pays for IT? It depends on the technology in question, said nearly half (46%) the respondents. About 40 percent disagreed, saying IT is always paid for by the business units, and another 15 percent said it's always paid for by the IT group.
Channel? What Channel?
IT buyers are familiar with the channel, but LoB buyers of IT are not, the CompTIA survey found.
Only 3 percent of respondents said they work with third parties (including the channel) when selecting IT products and services. More than half (54%) instead consult with IT vendors. And nearly 40 percent do all the research on their own.
At small businesses, the channel does get used more often. Here, 14 percent of managers said they work with third parties when selecting IT projects and services. As CompTIA points out, many small businesses either have very small IT groups (say, 1 or 2 people) or no IT group at all. So help from the outside — that would be you — is needed.
Making lemonade, CompTIA sees an opportunity for solution providers:
"There's plenty of green space here for channel firms to pursue," the report's authors write. "They should consider revamping marketing messaging to reflect the business needs of these constituents and then promoting technology primarily as a way to achieve desired business outcomes."
Go get 'em!

Also check out:
Clients still lax on cybersecurity? This new survey could help
Dell survey gives solution providers a new security blanket
Ignoring LoB managers? Stop making this costly mistake
Back to top