You've seen the headlines about driverless cars. But what happens next, when today's drivers become tomorrow's passengers?
Intel believes driving will be transformed much the same way that personal computing, the internet, universal connectivity and smartphones transformed into new economies. The company foresees autonomous driving creating what it calls the Passenger Economy.
What's more, this Passenger Economy could be a $7 trillion business by 2050. That's according to a new study from Intel, prepared by analyst firm Strategy Analytics. The study is entitled Accelerating the Future: The Economic Impact of the Emerging Passenger Economy.
Strategy Analytics defines the Passenger Economy as "the economic and societal value that will be generated by fully autonomous (SAE Level 5) pilotless vehicles." Here's how Strategy Analytics sees the market in 2050: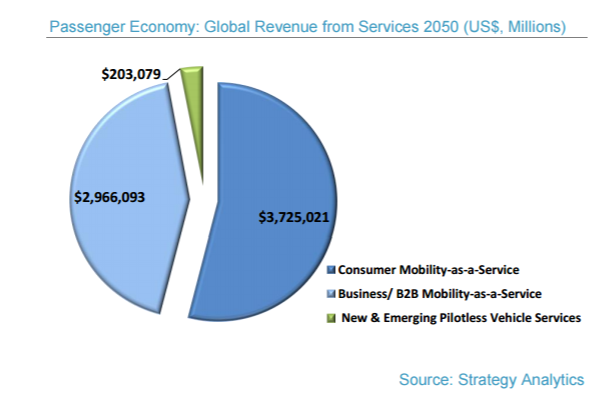 So what does this Passenger Economy mean for solution providers serving the SMB market? Looking through the study, 3 questions jump out:
Q1: What level of IT intensity will impact your business?
You can expect the Passenger Economy to lead to higher levels of IT intensity — that is, annual IT expenditures as a percentage of an organization's annual revenue — for all businesses in this market. The Intel study predicts that IT intensity will nearly double from today's levels of 3% to 5%, reaching as high as 10%.
What's behind that growth? The prevalence and use of cloud services and advanced predictive analytics. Both will expand to provide efficient and effective dispatch, transport and CRM to support relationships.
The need for robust, redundant and secure technical solutions to ensure fleet reliability will also increase IT intensity. Companies will offer predictive maintenance, predictive dispatch and dynamic fleet deployment to optimize availability and asset utilization.
Q2: What role will data play?
The Passenger Economy should foster the evolution of Mobility as a Service (MaaS). Companies in this business will be driven (pardon the pun) by data. The Passenger Economy will see data as central to the delivery and use of services.
The critical success factors for today's ride-sharing businesses reside in the data that manages the fleet deployment. This creates a responsive user experience to improve customer loyalty and satisfaction. Service providers' bonds with customers will be crucial to maintaining and building a competitive position in the coming Passenger Economy.
Data also enhances relationships among business partners through CRM and direct marketing. Data analytics, predictive analytics and system optimization will likely be important competitive factors, too.
Q3: How should you think about security?
The breadth and depth of the data contained by MaaS offerings in the Passenger Economy will be unprecedented.
Indeed, every detail of our lives will be stored — in our smartphones, our vehicles, our credit cards, and who knows where else. MaaS companies will be required to provide rigorous data security measures and vigilance. Those that fail will face massive backlashes from both consumers and regulatory agencies.
Transactional architectures, encryption and multilevel access requirements will be needed, too. They'll be used to block hackers trying to get their hands on this sensitive information.
So don't be a backseat driver! Take the wheel and steer the Passenger Economy to the finish line.
Download your copy of the full Intel/Strategy Analytics report: Accelerating the Future: The Economic Impact of the Emerging Passenger Economy.
And also check out:
Wearables are catching on. Are you ready?
Why Intel paid $15.3B for autonomous-vehicle provider Mobileye
Vehicles turning into conduits for services and data (via IoT Solution Provider)
Back to top