The big MWC 2019 show got started today in Barcelona, Spain, with exhibits and presentations by some 2,400 participating tech companies.
Among them: Lenovo, which today introduced new models in its ThinkPad PC line and a smartphone-tablet combination device. Here's your tech provider's update.
New notebooks
Lenovo at MWC added 5 new members to its ThinkPad family, 2 stripped-down notebooks for "frontline workers," and a mobile display.
The new ThinkPads share a new and improved BIOS. One nice feature is a graphical user interface (GUI) aimed at easing navigation. In addition, admins can now set remote supervisor or privileged-access passwords for better security. And a new self-healing feature lets the BIOS revert to a known good copy if it's corrupted or attacked.
The new Lenovo ThinkPad also feature ThinkShield security, which includes webcam protection; high-speed WAN with up to gigabit speeds; dual mics for far-field performance from up to 4 meters (about 13 feet); and 8th Gen Intel Core processors.
The 5 new models are the ThinkPad T490s and T490, (retailing for $1,280 and $1,000, respectively); the ThinkPad T590 ($1,030); ThinkPad X390 ($1,100); and ThinkPad X390 Yoga ($1,360). All 5 are set to ship in May.
Lenovo's ThinkPad X390 Yoga assumes its 4 positions
Two other new Lenovo notebook devices, the 14w and 14e Chromebook, are aimed at what Lenovo calls "frontline workers" in retail, hospitality, travel and manufacturing. Designed to handle the wear and tear of a shop or factory floor, the devices weigh about 3.4 lb, feature 14-inch displays and spillproof keyboards, and promise a full workday of battery life.
The difference is in the OS. The Lenovo 14w runs on Windows 10; the 14e, on Chrome. Though they're both inexpensive, the Windows-based 14w costs slightly more: $300 compared with the 14e's $280. Lenovo says the 14w and 14e are both set to ship in March.
Phone-Tablet
Lenovo doesn't call it a phablet, but the company's new Tab V7 sure looks like one. Running on the Android Pie OS, the device features a 6.9-inch full HD screen, yet can also be used like a regular smartphone.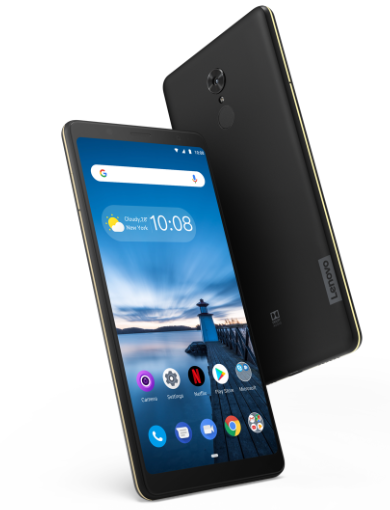 Lenovo Tab V7: Android tablet, phone -- or bit of both?
The device carries 2 cameras, one on the front, the other in the rear. Also on the rear is a built-in fingerprint reader for security.
Battery life on the Lenovo Tab V7 is promised at up to 10 hours for video viewing and web browsing, or up to 30 hours of plain old talk time.
Shipments are set to begin in April, with a starting retail price of €249 (about $282).
Lenovo also introduced the M14 mobile display. It's a 14-inch, full HD, ultra-slim (4.6 mm) display to give any laptop some extra screen real estate. Shipments are set to begin in May, with a retail price of about $250.