If your customer is getting ready to pick up a 4K gaming monitor, they may also need to get ready for some serious option anxiety.
With the explosion in popularity of Esports and first-person shooters (FPS), monitor manufacturers are pushing hard to dial up the visual experience and rake in the dollars.
Resolution up, prices down
It wasn't long ago that every monitor supplier was putting out the same top-line spec: 1920 x 1080 resolution, 60Hz refresh rate, DisplayPort, blah, blah, blah.
Those days are over. Today, manufactures including ASUS, Alienware (owned by Dell), and Samsung are doing a good impression of Intel and AMD's gigahertz war. To gain an edge over the competition, gamers and manufacturers alike are working hard to eek out a few more pixels wherever they can.
You might think this innovation would push prices up, but your customer will be glad to know that prices are actually coming down. Monitor makers are offering hot features at cool prices.
Take the 35-inch Wide Quad High-Definition (WQHD) ASUS ROG Strix XG35VQ. It's got a max resolution of 3440 x 1440 pixels, a 21:9 aspect ratio, and a beautiful picture that's free from tearing, flickering and blurring.
The 35-in. ASUS ROG Strix packs a lot for a little
The price? Just $760. That's a far cry from the four-figure premium this kind of tech demanded just a few years ago.
A fresh look at refresh rates
Another stat on everyone's lips is the refresh rate. Measured in hertz, it refers to the number of times per second a display is able to refresh the picture. The lowest acceptable rate is 60Hz, but that's just for "regular" people, right?
The pros know that a higher refresh rate is another chance to gain that much needed edge. So hardcore gamers are looking for displays with triple-digit refresh rates.
Acer Predator X27: more costly than most
One of them is the Acer Predator X27. Retailing for nearly $1,800, the Predator is one of the more expensive screens on the market. But it offers a 144Hz refresh — more than double that of a standard display — and an enormous resolution of 3840 x 2160.
Displays going round the bend
Another popular trend these days is the curved display. Let's face it, you can only see so much at once, especially if you're sitting right in front of the screen.
That is, unless the screen is curved.
Alienware's 34 Curved Gaming Monitor, at 34 inches, is smaller than the 49-inch models that get most of the press. But what it lacks in size, it more than makes up for in pixels. At 3440 x 1440, it has nearly a million pixels more than the popular Samsung CH90.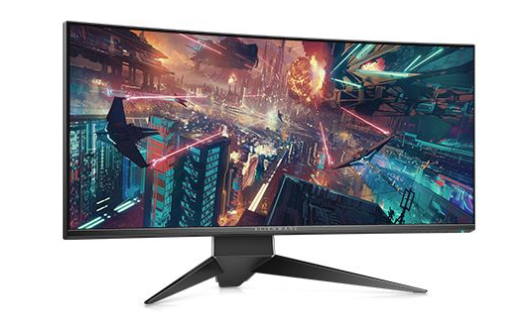 Alienware 34 Curved Gaming Monitor's refresh rate can be overclocked
The Alienware also boasts a 4ms response time and 120Hz refresh rate you can actually overclock. Take that, League of Legends!
A big, shiny future
As demand grows for high-high-performance screens, there's no end in sight for visual innovations. Size and resolution are already growing at an incredible rate.
Nowhere is this better illustrated than in Samsung's latest 8K QLED signage display, appropriately dubbed The Wall. At up to 292 inches (or over 24 feet), it will officially be the world's biggest, highest-resolution display.
Sure, you say, but that's way off in the future, right? Nope. Samsung has already announced 8K televisions, some with what it calls Real Game Enhancer. Apparently the future is now.