Microsoft says it will ship the Surface Pro with LTE Advanced 2-in-1 device to business customers starting in December.
The company introduced the 2-in-1 back in May. At the time, the company said the LTE Advanced version would ship "later this year." Well, here we are.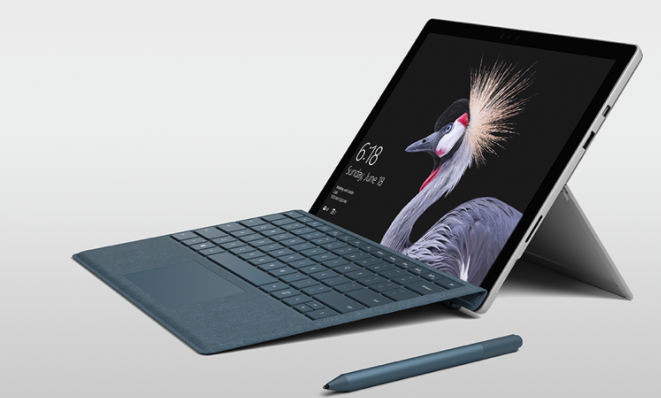 Microsoft's Surface Pro and Surface Pen
LTE, short for Long-Term Evolution, is a standard for high-speed wireless broadband communication. Designed to support roaming devices, it's basically a 4G technology.
LTE Advanced, the version Microsoft is supporting in its Surface Pro device, takes the LTE standard further, with a connectivity speed of 1200 Mbit/sec., compared with LTE's 326 Mbit/sec. Also, LTE Advanced is backward compatible with "regular" LTE, whereas plain LTE is not backward compatible with 3G.
All that's important, Microsoft says, because half the global workforce will be mobile by 2020. In a blog posted today, Microsoft corporate VP of devices Panos Panay wrote, "The office is no longer restricted to a set of buildings….With so many changing locations, your device becomes your office."
Tech specs
Microsoft's Surface Pro is spiffy 2-in-1 device. It's light at 1.7 lb. and thin at 8.5 mm (about a third of an inch). The device features a 12.3-inch display that, according to Microsoft, offers 50% more pixels than does a 12-inch Apple MacBook.
Under the Surface Pro's hood is a 7th Gen Intel Core processor — the user's choice of Core m3, i5 or i7. For the m3 and i5 options, the device is also fanless. LTE Advanced connectivity is supplied via a Cat 9 modem.
The Surface Pro supports at least two important Microsoft peripheral devices, the Surface Dial and Surface Pen. The system's standard OS is the Windows 10 Creators Update, updated earlier this month.
Prices for the new Surface Pro with LTE Advanced start at about $1,150. That gets you a system with an Intel Core i5 processor, 4GB of RAM and 128GB of SSD storage.
Do you have business customers who work on the move? If so, they're ideal candidates for Microsoft's new Surface Pro with LTE Advanced.
Back to top