If you find it comforting to know some things don't change, you may welcome this news: Tablet sales are still declining, and 2-in-1s are still replacing conventional tablets.
According to new figures from market watcher IDC, the number of tablets shipped worldwide in this year's second quarter fell by 3.4 percent from the year-earlier quarter. In all, 37.9 million tablets were shipped globally in Q2:17, IDC says, compared with 39.3 million units a year before.
Nothing new there. Tablet sales have been falling for some time, according to IDC. For the full year 2016, the number of tablets shipped dropped by more than 15 percent from the year before. And for the full year 2015, unit sales of tablets were 10 percent lower than those in the previous year.
What's the problem? For one, replacement cycles on tablets are long, more like those for PCs than those for smartphones. For another, first-time buyers are rare. Pretty much everyone who wants a tablet now has one.
2-in-1s to the rescue?
So what about the systems IDC calls "detachable tablets" and almost everyone else calls 2-in-1s? Aren't they supposed to save the day?
Yes, in the long term. But in the short term, 2-in-1 unit sales declined in this year's Q2, IDC says. But the market watcher expects sales to strengthen in the second half of this year, as new models ship and catch on with buyers.
"The tablet market has essentially become a race to see if the burgeoning detachables category can grow fast enough to offset the long-term erosion of the slate market," said Linn Huang, a research director at IDC
Microsoft, Apple & Co.
Two suppliers are bucking the overall market.
Microsoft's Surface devices have taken off, surprising just about everyone. Last month, Microsoft reported that for the fiscal year ended June 30, Surface sales declined 2 percent, but still totaled $4 billion. That's a lot of 2-in-1s.
Similarly, Apple earlier this week reported that Q3 sales of its iPad tablets, including the iPad Pro 2-in-1, totaled $4.97 billion. That's up 2 percent from the year-earlier quarter. Unit growth was even stronger: Apple says it shipped 11.4 million iPads in Q3, up 15 percent from the year-earlier period.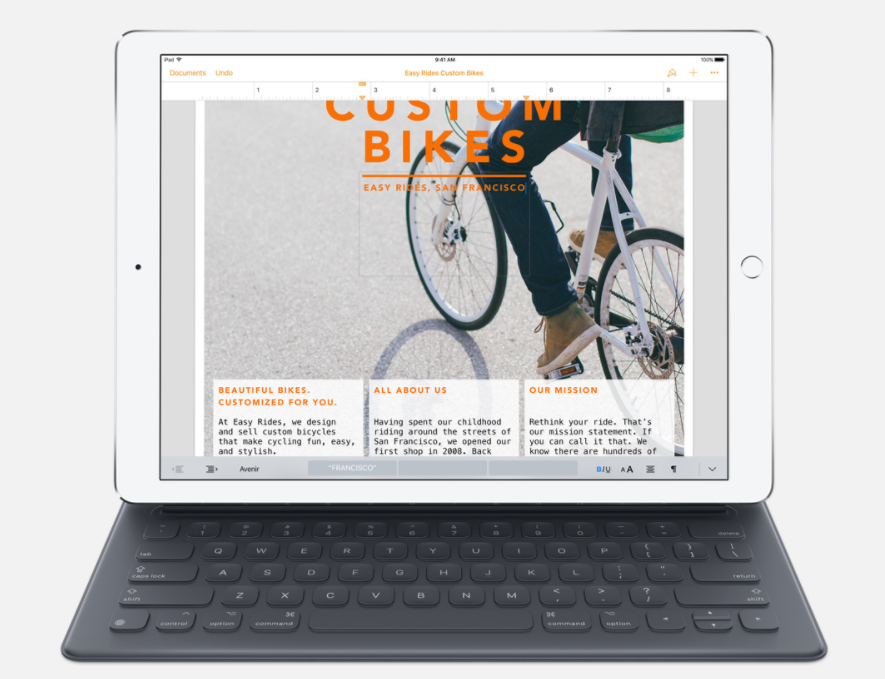 Apple says it shipped 11.4 million iPads, including the iPad Pro (pictured above), in its latest quarter.
Things could get even rosier for Apple. The company says it will release a major mobile operating-system update, iOS 11, this fall. The new OS will run on both iPhone smartphones and iPad tablets, Apple says, adding new features that include multitasking, augmented reality and the new Files app.
As for the other hardware suppliers, tablets are a zero-sum game. With the overall market declining, one supplier's gain can only come out of another's hide.
For example, Samsung gained about half a percent share in the worldwide tablet market, from 15.4 percent in Q2:16 to 15.8 percent in Q2 of this year, IDC says. But Lenovo's share dropped from 6.5 percent a year ago to 5.7 percent in Q2:17.
Future outlook
Looking ahead, IDC expects things to pick up. Propelling the tablet market, it believes, should be Chrome-based 2-in-1s in time for the holidays, the re-introduction of Windows on the ARM platform, and new product launches from Microsoft and Apple.
Another important market watcher, Gartner, mostly agrees. Last month the research and advisory company predicted that sales of what it calls "premium ultramobiles" will increase from 50 million units last year to 59 million this year, and then to 82 million units by 2019. If you're a solution provider struggling with tablets, that should be comforting.
See related blog posts:
Why you need 2-in-1s in your product mix
HP's revamped All-in-Ones look worthy for business
PC shipments fell again in Q2:17
Back to top